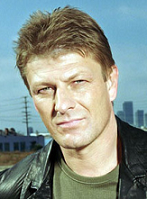 Sean Bean (born 17 April, 1959) played Richard Sharpe in all the Sharpe's Rifles, Sharpe's Eagle, Sharpe's Company, Sharpe's Enemy, Sharpe's Honour, Sharpe's Gold, Sharpe's Battle, Sharpe's Sword, Sharpe's Mission, Sharpe's Waterloo, Sharpe's Challenge, and Sharpe's Peril.
The role originally went to Paul McGann, but shortly after filming began, he broke his leg and was unable to continue. Sean Bean was the only actor available on short notice and he took over the role.
Outside his role as Sharpe, Bean has made multiple film and TV appearances, appearing as Agent 006 in the 1995 Bond movie, Goldeneye, and more recently as Lord Eddard Stark in Game of Thrones.
Trivia
[
]
Both Bean and Daniel Craig have appeared in the James Bond film series.
External Links
[
]
Sean Bean at the Internet Movie Database