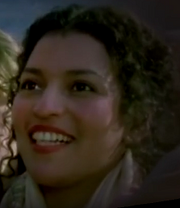 Ramona Gonzalez was a Spanish woman whom Harper met while on campaign in Spain and would later marry.
Together they had a son born during Sharpe's Honour, her midwives were Riflemen Hagman, Harris, Perkins and Cooper, who upon successful delivery, said a prayer over mother and son, then each contributed a coin for the boy whom she named Patrick Jose Hagman Cooper Harris Perkins Harper.
In Sharpe's Siege, she was an attendant to Jane Gibbons at her wedding. In Sharpe's Sword, it was she who discovered the unconscious Sharpe after he'd been deposited in the 'death room' after taking a belly wound. After Harper was later clubbed unconscious during a battle, when he came to, he told Father Curtis he wished he'd married Ramona, thinking he was dying. Curtis quickly performed the service and the two were wed.
In the TV movie Sharpe's Challenge, she convinced Sharpe to find Harper who was missing in India.
Ramona appears only in the television adaptations and is played by Diana Perez. In the novels Harper's wife is Isabella.