Originally The South Essex Regiment, it was first raised as a militia battalion, under Colonel Henry Simmerson, but was later moved to Portugal to fight in Wellesy's army on the Peninsula. The troops wore yellow-faced red jackets. Its Light Company was what Lieutenant Sharpe and his band of detached riflemen joined at the beginning of Sharpe's Eagle.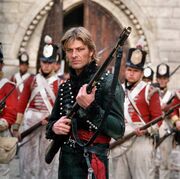 In their first action, Simmerson ordered his troops into action against French Chasseurs across the bridge they were supposed to destroy. The Chasseurs routed the sortie, except for 100 men who fought valiantly, but ultimately lost the king's colour, while Sharpe and Harper fought to retrieve the
regimental colour
. Due to his bravery in that instance, Sharpe was promoted to captain of the light company, though Simmerson was humiliated by having his regiment considered a 'battalion of detachments'.
At Talavera, Simmerson broke the British line of battle and ordered the unit back, but Sharpe and Harper kept the light company in the fray, fighting their way through to the centre of a French column and restoring the regiment's honour by capturing its eagle. Simmerson was dismissed for his actions, and the regiment was placed under the command of Colonel William Lawford, until he lost an arm at Ciudad Rodrigo.
When Sharpe later returned to England to find replacements for the depleted Battalion, he discovered Simmerson had been involved in crimping - the practice of training men and selling them to other battalions short of strength, and had thereby threatened the existence of the South Essex. Sharpe decided to present the recovered troops to the Prince of Wales to prove their existence was not just clerical. From that point, the delighted Prince Regent renamed the unit The Prince of Wales' Own Volunteers.(Sharpe's Regiment)
At Waterloo, the Regiment was under the command of Colonel Ford and Major Vine. Harry Price and Peter d'Alembord still served as captains, and Hagman was still in the ranks. Harry gets the majority with the death of Vine, and Peter sells up after the loss of his leg.