Palmer was an officer of His Britannic Majesty's forces.
Neil Palmer was the 38 year old Captain of the Royal Marines aboard HMS Vengeance (Sharpe's Siege, Chapter 5). He led the Marines into an ambush set by Cornelius Killick as they marched to the assault upon the Teste de Buch fort, though he and his men were saved from defeat by Captain William Frederickson and his Riflemen (Sharpe's Siege, Chapter 7).
He and his wife lived at Gravesend, where he had buried two of his children who had died in infancy. His eldest of his two surviving children, suffers fragile health. He dreams of taking his family far from the sea after the war, a small cottage with books, a horse, an orchard. Perhaps to live the life of a market gardener. (Sharpe's Siege)
At Sharpe's eventaul tribunal (Sharpe's Revenge, chapter 5), Palmer was reported to have been sent on a voyage to Van Dieman's Land (now Tasmania).
Television
Edit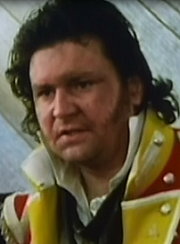 A captain of the
Prince of Wales' Own Volunteers
, formerly the South Essex, he served under Colonel
Horace Bampfylde
and was badly wounded in the thigh at the assault on the
Maquerre
castle in
Sharpe's Siege
. The bullet was dangerously close to the artery, causing the surgeon to hesitate about removing it, until Sharpe threatened him.
He fought with Sharpe and Frederickson in repulsing General Calvet's assault on the castle, and returned with him to report Bampfylde's incompetence and cowardice.