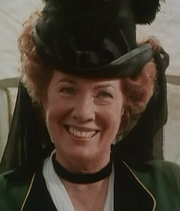 Appearing in the television movie,
Sharpe's Gold
,
Bess Nugent
is Wellington's cousin and has come to Spain to find her missing husband, Will. When
Wellington
refuses to mount a search, she attaches herself to
Sharpe
and his men who are on a mission to trade rifles for deserters.
She and her daughter Ellie part company with Sharpe's men to carry on the search themselves.
She is shot and killed when she ride's directly at one El Casco's partisans in hope that her daughter will escape.